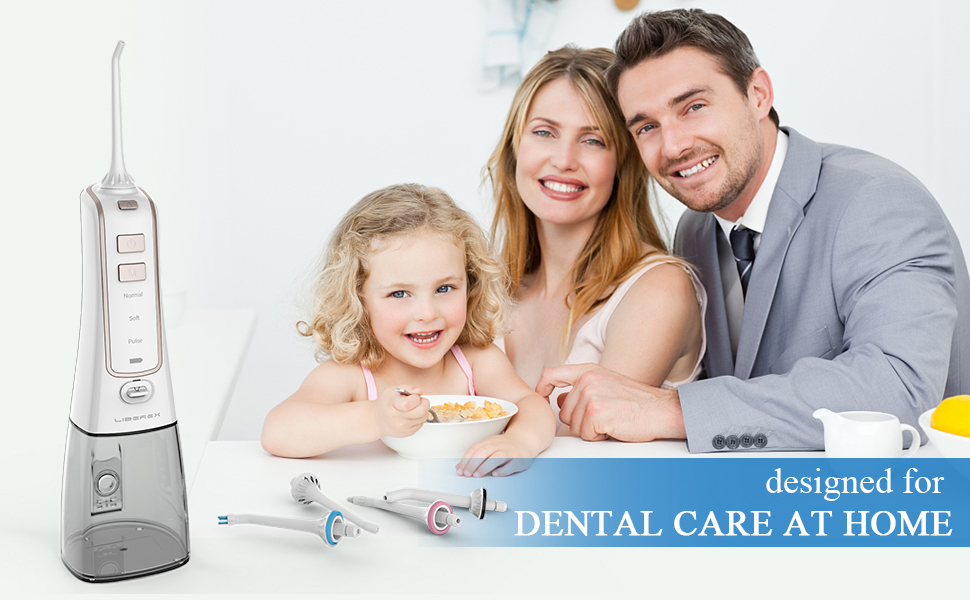 Effectively Against 8 Oral Problem

Water flossers are excellent as a supplement to regular dental hygiene. Oral irrigators are less likely to cause gum bleeding or irritation. They're excellent for cleaning around braces,
bridges, or implants. For people who are with hand pain, they can be much easier to use than traditional floss. Water flossers can be more effective than string floss at removing debris
and plaque from beneath the gum line.
--With the continuous power of 1400-1800 waterjet pulses per minute.
--This compact water jet penetrates deep between teeth to help remove tough food debris.
--Especially in places where traditional floss and toothbrushes can't reach.
--These cleaning pulses also stimulate and massage the gums. Gently remove tiny food particles often trapped in the small ------periodontal pockets between teeth and gums.
--Be more effective than air flossing, interdental brushing or string flossing for removing plaque and improving gum health.
What's in box?
1* Liberex Water Flosser
1* USB Charging Cable
5* Water Jet Tips
1* Carrying Bag
1* User Manual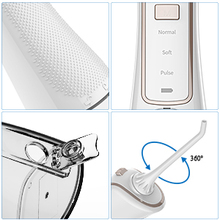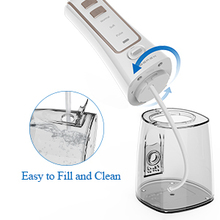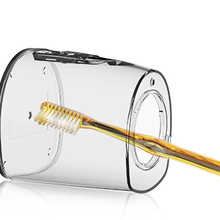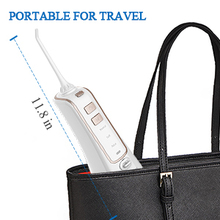 Mutle Feature
1. Anti-slip handle: grainy backshell enhanced friction and easy to hold rather than slip off.
2. LED battery indicator: monitor the power visually to charge in time, avoid out of battery suddenly
3.Leak-proof plastic cap: special designed cap make you fill the water easily.
4.360° Rotating Nozzle: comes with 5 interchangeable 360° rotating ergonomic nozzles, deep removal of bacterial debris
Easy to Fill and Clean
Rotate to remove water tank
200ml water reservoir provides
50 Seconds continuous flossing; no hassle to refill
Note: Liberex suggest replace the tube per 3 months for better and more healthily use.

Open-end Design for Easily Cleaning
Detachable water reservoir of 200 ml.
Avoid the hassle of having to frequently refill the water while flossing.
Every time you do wish to floss, just open the lid, add water or mouthwash through the inlet, and turn on the switch.
In addition, our open-end design makes it great for every day cleaning.

Convenient and Portable- making traveling easy
Comes with carrying bag, weighs less than a pound, stands on only 5 inches of bathroom countertop space, and fits perfectly in your toiletry bag for use at work, in school or during travel
Support USB Charge: After every full charge, the working time of this oral irrigator will last up to 2 weeks
Universal Voltage: Flexible 100-240V power supply for travel anywhere in the world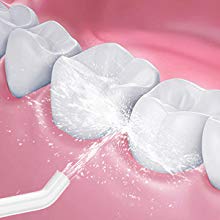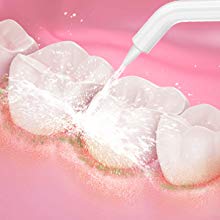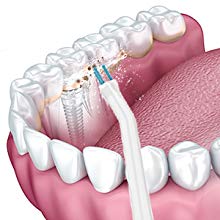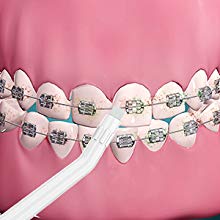 Standard Tips
For teeth's dialy clean, ultra-fine pulsed water flow, not only uses the force of water to floss the teeth, but it massages gums and feels great while getting all the food particles out of my teeth.
Periodontal Tip
For periodontal pockets. Deeply rinsing into the interdental fissure and subgingival site.
Massage gums, promote blood circluation under the gums, relieve periodontitis, gingivitis, teeth shrinking, reduce the thickness of pocket.
Dental Plaque Tip
For implants, dental bridge, false tooth crowns. It has 4 thin tufts of bristles to access stubborn plaque around implants, crowns, bridges and other areas that are susceptible to plaque accumulation.
Orthodontic Tip
For the person with the false tooth, wearing orthotics, dental braces, teeth socket. It removes hard-to-reach plaque around orthodontic brackets and wires.