MONEY BACK GUARANTEE
We take great pride in the quality of our products and are confident.
If for any reason within 60 days you feel that Hair Clippers is not right for you, just let us know and we will refund your money in full.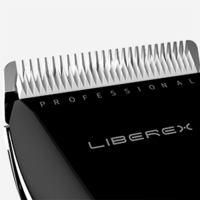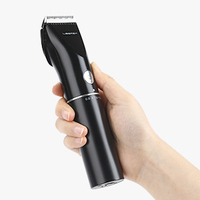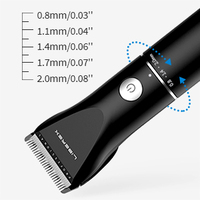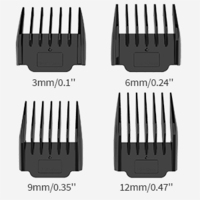 Precision Ground Blades
The titanium blades are harder than steel for ultimate durability, the ceramic blades won't overheat on you.
Our exclusive system keeps two kinds blades in proper alignment for a smooth, even cut. R Shaped Edge Design to prevent skin from hurt.
Comfortable for The Hand
The lightweight body and ergonomically handle to roll in your hand for comfortable clipping at any angle.
Precise Length Control
The trimmer offers 5 built-in length settings(0.03''-0.08''),
so you can select your preferred trim length by simply turning the zoom wheel,
avoid the inconvenience of frequent replacement of the separate guards.
The Guide Combs
the snap-on plastic teeth that control how closely the clipper cuts, letting you trim hair to the length you want.
Packed with 4 length attachments combs for all your home haircutting needs.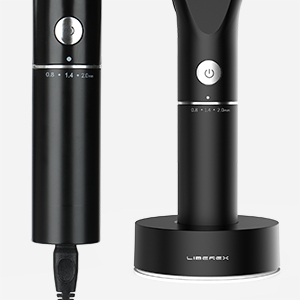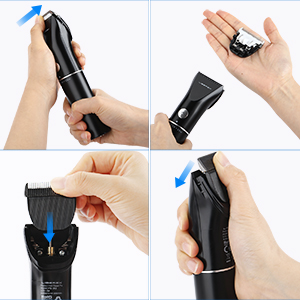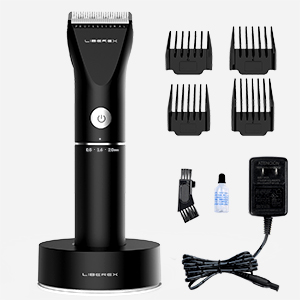 Two Ways to Charge
Comes with a compact charging stand to sit your clippers, directly cord plug-in charging is also supported. 180 minutes of cordless use after an 4-hour charge.
Easy to Clean
The detachable head makes it easy to clean, simply pop the head open and use the cleaning brush provided to sweep away any loose hairs.
What's in the box?
Hair clippers
4 Combo set
Cleaning brush
Oil bottle
Charging stand