Liberex Family Dental Water Flosser / Oral Irrigator / Water Pick Bring You Healthier Teeth
Orthodontic Tip
For the person with the false tooth, wearing orthotics, dental braces, teeth socket. It removes hard-to-reach plaque around orthodontic brackets and wires.
It uses a high pressure water jet to clean in areas that a toothbrush cannot reach. Promotes better oral hygiene in kids who love to use it. Also helps promote healthy blood flow to improve gum health.
Guarantee
Liberex provides 18 months warranty terms, any questions, please feel free to contact our customer service.
NOTES:
Compared with other flosser, Liberex provides a Toothbrush Tip to combine the benefits of brushing with water flossing.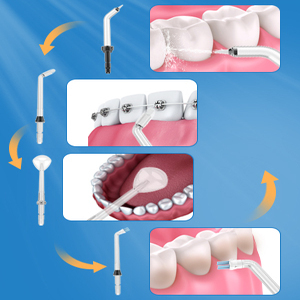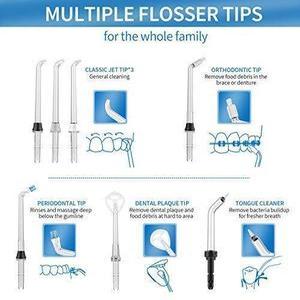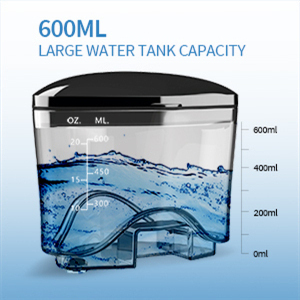 Reliable & Excellent
Hairby water flosser equips with 7 different jet tips and 1 hydraulic rotating toothbrush, and it meets different needs for the mouth health care.
-Medical and user-friendly material provides scatheless protection of oral cavity.
-Multiple interchangeable nozzles to clean your teeth more effectively.
-10 levels of adjustable water pressure fit parent and children to use. Hands-free for teeth care.
-Easy and safe operation prevent your teeth decay and inflammation.
-Universal voltage AC 110-240V, compatible with 50/60 Hz
-Portable size and light weight, better chioce for the cross-border tourism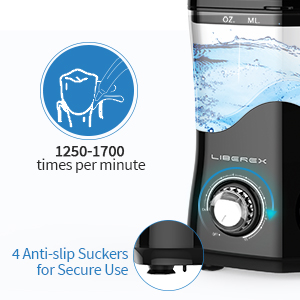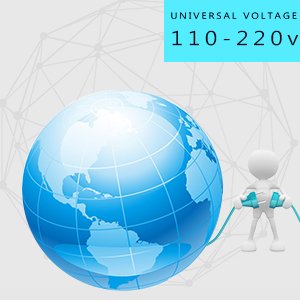 Main Features:
600ML WATER TANK:
600ML high-volume water capacity provides up to 90 seconds of continuous dental flossing, achieve a better oral hygiene in only one week of using our dental water flosser. Quiet design 3 minute intelligent timing for easy cleaning sessions.
360° ROTATING HANDLE
A convenient pause switch on the handle for temporary flow stop or power off at any time. 360 degree rotating design allow you to do the full clean your mouth in all direction.
10 LEVELS ADJUSTABLE WATER PRESSURE
Has 10 variable water pressure selections. Easily find the most comfortable and effective pressure setting for each family member just by turning the integrated adjustment knob.1-3 Setting(30-60psi): Effective for kids and those with sensitive teeth 4-7 Setting(60-80 psi): Medium settings are best for most people 7-10 Setting(80-110psi): High pressure, intensive settings for adults and experienced users
Universal Voltage
Input voltage is 100-240V, for general worldwide use. Adapter plug may be necessary depending on the country.