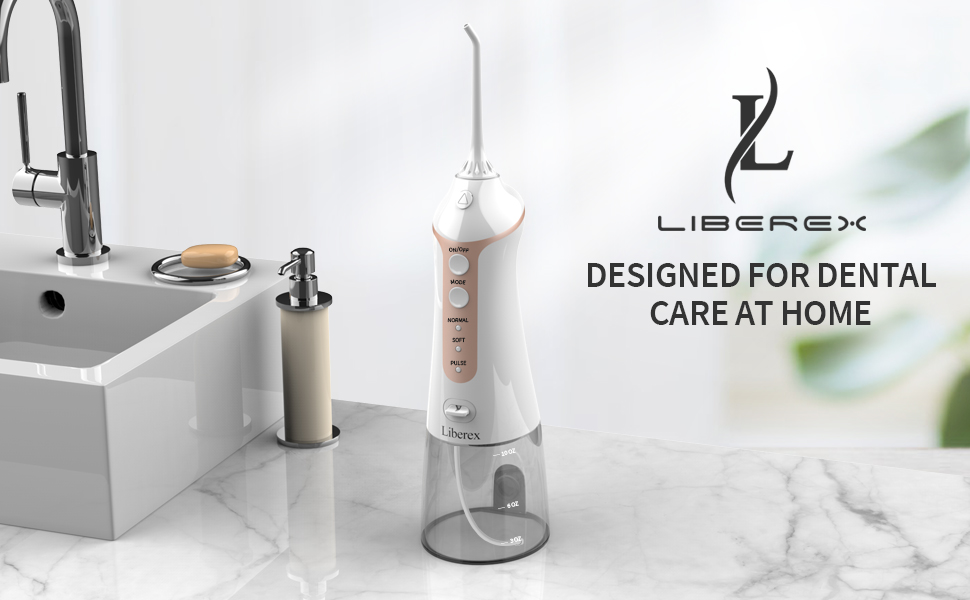 Cordless Water Flosser for Better Oral Health
Cordless Water Flosser for Better Oral Health
With superfine water stream of 30-90 PSI and 1600 pulses per minute, which proven to be the most comfortable frequency but of excellent cleaning efficacy.
This water flosser from Liberex could penetrate into spaces between teeth and below the gums to remove bacteria and tough food debris effectively.
Especially areas that traditional string flosser and toothbrushes could not reach.
Professional Oral Irrigator for Whole Family
3 operation modes and 5 replaceable nozzles to satisfy daily oral hygiene needs of the whole family.
Effectively and efficiently removes plaque and bacteria between teeth to improve overall oral health, providing healthier gum and brighter teeth;
IPX7 waterproof design is adopted both internally and externally to provide dual protection.
The intelligent design prevents leakage and allows it to be used safely even in the bathroom;
And its USB rechargeable design, powerful lithium battery provides convenience and flexibility.
Never worry about dead batteries, ideal for travel. A Professional cordless dental flosser for the whole family.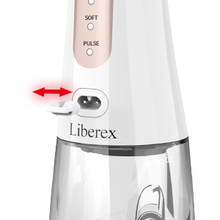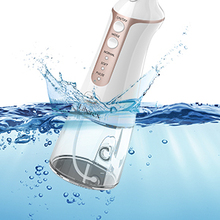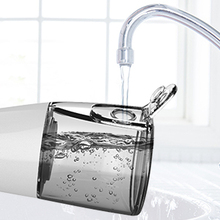 360°Rotating Long Nozzle for Deep Cleaning
Liberex cordless water flosser with 5 interchangeable 360° rotating ergonomic nozzles, high pressure water pulse 1400-1800 times per minute and a handheld tongue cleaner,
deep removal of bacterial debris,easily remove dental plague, cleaning effect is more than traditional floss, allow you prevent bad breath and improve gum health.
USB Charging Design
The water detal flosser supported by USB inductive charging, safe and easy, perfectly compatible with any charger or equipment with a USB port (not included in package),
convenient to use at home or travel. 4 hours charge for about 14 days use.
IPX7 Dual Waterproof
IPX7 waterproof design is adopted both internally and externally to provide dual protection.
Waterproof design to make it easy to clean as well as convenient to use even in the shower.Avoid electric leakage and enhance safety.
Upgraded With Detachable Water Tank
Reservoir with 300ml high-volume water capacity which can last for 50 seconds of continous flossing.
Fully wrapped removable water reservoir makes easy filling water and cleaning the scale and bacteria inside thoroughly;
Note: pls ensure the device is switch off when pouring water in the tank.
Type of Warm Tips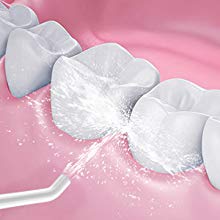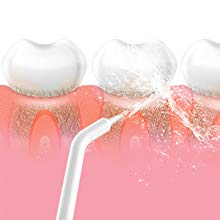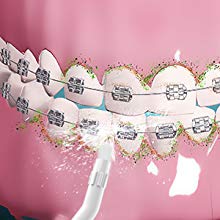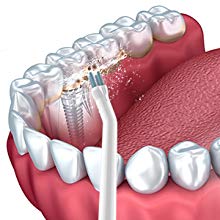 Standard Tips
For teeth's dialy clean, ultra-fine pulsed water flow, not only uses the force of water to floss the teeth, but it massages gums and feels great while getting all the food particles out of my teeth.
Periodontal Tip
For periodontal pockets. Deeply rinsing into the interdental fissure and subgingival site.
Massage gums, promote blood circluation under the gums, relieve periodontitis, gingivitis, teeth shrinking, reduce the thickness of pocket.
Orthodontic Tip
For the person with the false tooth, wearing orthotics, dental braces, teeth socket. It removes hard-to-reach plaque around orthodontic brackets and wires.
Dental Plaque Tip
For implants, dental bridge, false tooth crowns.
It has 4 thin tufts of bristles to access stubborn plaque around implants, crowns, bridges and other areas that are susceptible to plaque accumulation.